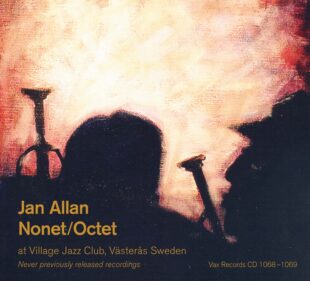 Vax Records är ett förlag, och ett skiv- och filmbolag, som vill lyfta fram svensk musik från vår svenska populära musikhistoria – jazz, klassisk, visor och populärmusik. Vi ger ut nya och äldre inspelningar på digitala musikmedia, fortfarande även enstaka på CD. Vi har gjort dokumentärfilm med och om Alice Babs och Ulla Billquist som finns tillgänglig på DVD. Vi har gett ut musikböcker i vår serie "Historiska Inspelningar från Sverige", vol 1 Wiggerskvartetten (de första svenska jazzsångarna); vol 2: Bengt Hallberg – pianisten, kompositören, arrangören och pedagogen (biografin är skriven av Erik Kjellberg).
Vill du få vårt veckobrev via mejl (gratis) där vi presenterar nya digitala musikutgåvor, mejla lasse.zackrisson@telia.com Alla jazzinspelningar som vi gett ut finns samlade på följande spellista på Spotify:
Swedish Jazz from Vax Records, 1455 inspelningar, 101 timmar (det kommer mera) https://orcd.co/zlvgqm0
För er som vill ha fysiska skivor botanisera gärna på vår hemsida – www.vaxrecords.nu
="281″ class="alignleft size-medium wp-image-7054″ />
……………………………………………  HÄR OM KENNETH ARNSTRÖM  …………………………………………………
Bästa Vax Vänner
Vidare släpps ett album med Kenneth Arnström, den här gången med Rune Gustafsson som gästartist i bandet. Lyssna och dela mycket gärna så att många får höra Vax musik!
_ _ _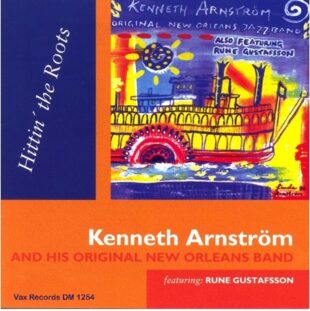 Hittin' the Roots
Kenneth Arnström and his New Orleans Band
featuring Rune Gustafsson
In a way this is traditional jazz of the old school, but it obviously also belongs to the music of today.
Rune Gustafsson, one of the most remarkable guitar players in jazz!
No 1,7-8: Kenneth Arnström cl ts as, Peter Kjellin tp, Fredrik John tb, Per "Slim" Notini p, Christian Franck b, Sven Ståhlberg dr
No 2-6: Kenneth Arnström cl ts as, Rune Gustafsson g, Christian Franck b, Sven Ståhlberg dr
No 9-10,12-13: Kenneth Arnström cl ts as, Peter Kjellin tp, Fredrik John tb, Per "Slim" Notini p, Christian Franck b, Petur "Island" Östlund dr
No 11: Only Fredrik John tb, Per "Slim" Notini p
No 14: Only Kenneth Arnström ts
Music Links:
Spotify playlist: Kenneth Arnström 56 recordings, 4,5 hour https://orcd.co/kennetharnstrom
Spotify playlist: Swedish Jazz 1469 recordings, 102 hours https://orcd.co/zlvgqm0
All links to this album: https://orcd.co/hittintheroots
While we dance at the Mardi Gras 4´24 (Alfred M Opler, arr: Kenneth Arnström) EMI CATALOGUE PARTNER SCAND AB
Do you know what it means to miss New Orleans 6´43 (Louis Alter, arr: Kenneth Arnström) WARNER CHAPPELL MUSIC SCAND AB
Linda 3´27 (Kenneth Arnström, arr: Kenneth Arnström) MANUS
It´s a sin to tell a lie 4´56 (Billy Mayhew, arr: Kenneth Arnström) PUBLIC DOMAIN
Fifi 6´18 (Kenneth Arnström, arr: Kenneth Arnström) MANUS
Blues from New Orleans 6´39 (Kenneth Arnström, arr: Kenneth Arnström) MANUS
China boy 5´00 (Richard A Dick Winfree, arr: Kenneth Arnström) EMI CATALOGUE PARTNER SCAND AB
Slim's boogie 4´03 (Per "Slim" Notini, arr: Per "Slim" Notini) MANUS
Way down yonder in New Orleans 3´53 (Henry Creamer, Turner Layton, arr: Kenneth Arnström) SHAPIRO BERNSTEIN & CO LIMITED
Leone blues 5´45 (Kenneth Arnström, arr: Kenneth Arnström) MANUS
I want a little girl 3´31 (Murray Mencher, arr: Fredrik John) SHAPIRO BERNSTEIN & CO LIMITED
Exactly like you 5´40 (Jimmy McHugh, arr: Kenneth Arnström) SHAPIRO BERNSTEIN & CO LIMITED
Tishomingo blues 9´12 (Spencer Williams, arr: Kenneth Arnström) WARNER CHAPPELL MUSIC SCAND AB
Kenneth's meditation 1´18 (Kenneth Arnström, arr: Kenneth Arnström) MA
Trevlig helg, LasseZ